Tiger Woods won't say whether he'll play back-to-back weeks
Updated:
February 14, 2018, 2:24 AM ET
By
Bob Harig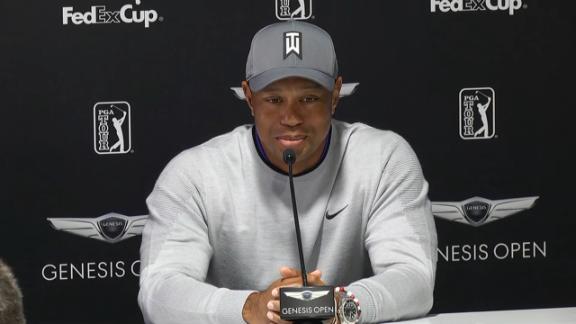 Tiger on Genesis Open: 'It's a whole new game'
Tiger Woods reflects on the first time he played in the event now named the Genesis Open at 16 years old before he returns to the tournament for the first time since 2006.
Tiger on Genesis Open: 'It's a whole new game'
LOS ANGELES -- Tiger Woods said there will be nothing negative to take from a decision he will make later this week about whether he will play consecutive tournaments on the PGA Tour.
Woods has yet to commit to his adopted hometown tournament, the Honda Classic, waiting to see how he fares this week in the opening rounds of the Genesis Open at Riviera Country Club.
"I think it would be a great sign if I do play; I think it would be a smart sign if I didn't play," Woods said Tuesday during a news conference following a 9-hole practice round. "How about that?"
More from ESPN.com
Coming off back fusion surgery, Tiger understandably is hesitant to commit to back-to-back events. But wouldn't it be fun if the 14-time major champion decided to show up everywhere? Jason Sobel maps out a wild year. Story
Woods, 42, is making his third tournament start since returning from spinal fusion surgery last year. He tied for 23rd at the Farmers Insurance Open in late January.
He will play the first two rounds with Rory McIlroy and Justin Thomas, teeing off Thursday at 10:22 a.m. ET and at 3:02 p.m. Friday. Woods' deadline for making a commitment to the Honda Classic is the end of play on Friday.
Long expected to play next week because he lives near the Honda Classic -- held in Palm Beach Gardens, Florida -- Woods said it is more about being smart in his return to competition.
He said what will help him decide is "just not to feel sore, feel like I can play all-out again, within three days. To be able to go at it full bore again. That's something that I've been trying to do at home and trying to simulate rounds where I go full bore, but it's never the same as in a tournament. I try to get myself as fired up as possible to try and hit shots as hard as I would in a tournament or shape shots and do all the weird things I like to do, but it's just not the same."
This week's tournament is Woods' original hometown event, the place where he teed it up as a 16-year-old amateur in 1992 when he played in a professional event for the first time. Woods played nine more times here, never winning -- the most visits to any venue where he did not win. Now run by his foundation -- which he has rebranded the TGR Foundation -- Woods is at a loss for why he never won here.
"I love the golf course, I love the layout, it fits my eye and I play awful," said Woods, who finished second to Ernie Els in 1999 and had two other top-10s. (He also lost a playoff to Billy Mayfair in 1998 when the tournament was played at Valencia, which is north of Riviera.) "It's very simple. It's a fader's golf course for a righty. A lot of the holes, you hit nice soft cuts and I used to love to hit nice soft cuts, and for some reason I just didn't play well."
Sean M. Haffey/Getty ImagesTiger Woods, shown playing the Famers Insurance Open in January, will make his third tournament start since returning from back surgery,
Woods spent much of the past two weeks working on his game at home. He said he made a tweak to his driver, going to a stiffer shaft that he said is "a little more stout," while also adding a bit of loft.
"We could all see how bad I was driving it, so I was able to clean that up a little bit and still keep my putting sharp," he said.
And that will be a big key at Riviera, another tight golf course. At Torrey Pines, Woods hit just 17 of the 54 fairways, the worst of his career. He played the weekend under par despite hitting just six fairways.
Asked if he was sore after Torrey Pines, Woods said, "I was. My feet. I'm not used to walking. I'm used to being in a cart 36 holes."
During his 9-hole practice round, Woods appeared to be swinging hard and aggressively, like he did at Torrey Pines and in December at the Hero World Challenge. The idea is to build on that and get to a point where he can put himself into contention.
"I'd eventually like to win tournaments," Woods said. "I'm trying to get through that process, go through that process, get to that point. I'm making small little subtle changes in my posture and my game and my swing because I'm starting to understand my body a little bit more with this back and that's different than it used to be.
"And those are things I could have never figured out on my own, not in a tournament setting, because in a tournament setting things are ramped up and I could feel some of the things were off. ... The more tournaments I play in, the more I'll be able to get a better understanding of that. But also I don't want to play too much. This is still all new to me and I just want to be real smart about it."
EDITORS' PICKS
Tiger Woods played a round at Augusta National on Tuesday, fueling speculation he will compete in the Masters. Bob Harig »

As she blossoms into adulthood, Lexi Thompson is close to cracking the next stratosphere in marketing and in golf. Melissa Isaacson »