Buster Olney
@Buster_ESPN
Per Fangraphs, Cubs' chances to make the playoffs at 98%; to win the NL Central, 88.1% fangraphs.com/standings/play…
Buster Olney
@Buster_ESPN
Jeff Sullivan writes about the great work of the Arizona Diamondbacks defense. fangraphs.com/blogs/why-the-…
David Schoenfield
ESPN Senior Writer
The Nationals snap the Cardinals' eight-game win streak, although for a moment it appeared the Nationals would blow another late-game lead. The Cardinals got the tying run to second base with two outs after Koda Glover walked Matt Carpenter, but Yadier Molina swung at a first-pitch fastball at the knees and flew out to center field.
Jesse Rogers
ESPN Staff Writer
Watch Jon Lester discuss his outing where he shutdown the Pirates over 6 innings on Thursday.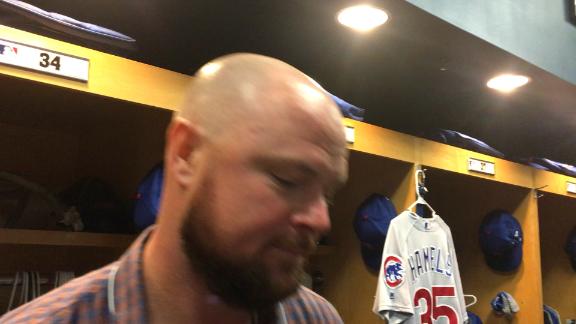 Jesse Rogers
ESPN Staff Writer
Jon Lester had a great bounce back game as he entered the night with a 10.32 second half ERA. That number came down considerably after he threw 6 shutout innings against the Pirates, allowing just five hits without issuing a walk. He struck out 8 using just 92 pitches. 60 of them were strikes. He looked like the first half pitcher who made the all-star team.
Team Penske
@Team_Penske
While gearing up for this weekend's race at @poconoraceway, @12WillPower had a full afternoon with the @Phillies me… twitter.com/i/web/status/1…
Coley Harvey
ESPN Staff Writer
Aaron Boone on watching other teams in the division at this point in the season: "I pay attention to the sport. I know what's going on. But I'm not thinking about what other teams are ahead, behind. That's just frankly a waste of time. It's, we've got to get after the Blue Jays. That is my focus. That is our teams' focus."
Coley Harvey
ESPN Staff Writer
Aaron Boone and Giancarlo Stanton weren't happy Stanton's eighth-inning hit off the yellow stripe on the wall in right was ruled a double. Originally, umpires called it a homer before video replay confirmed it hadn't left the ballpark. They had Stanton go to second base.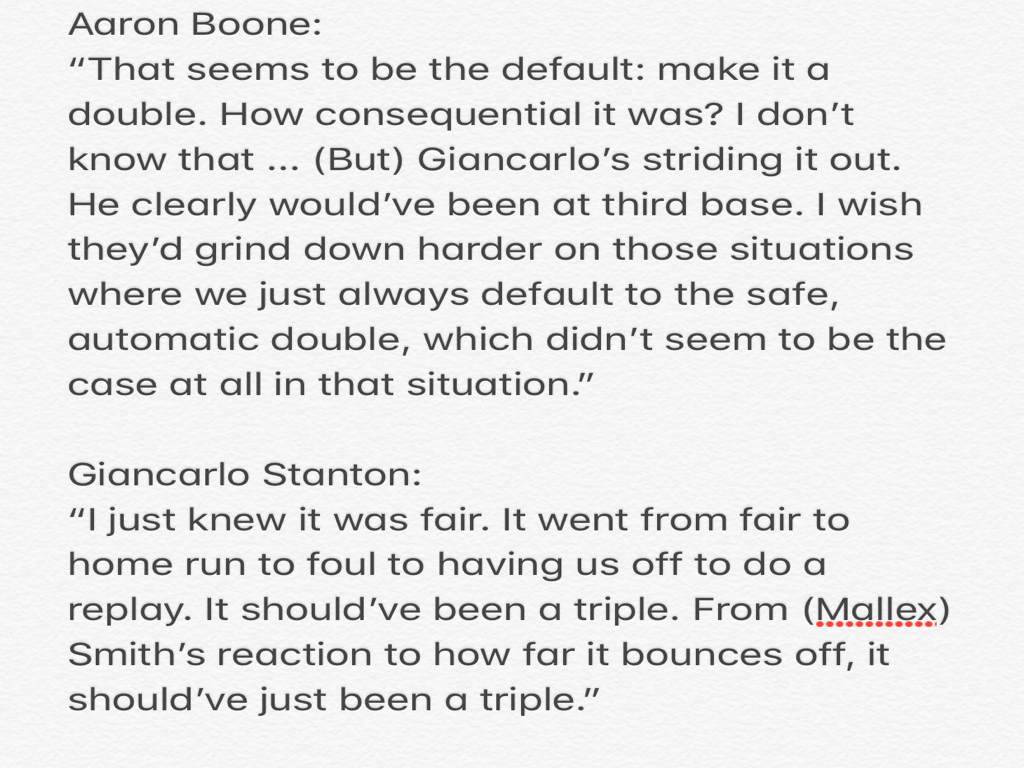 Bradford Doolittle
ESPN Staff Writer
The Mets are battering the Phillies 22-4 in the first game of their doubleheader, so we've got another position player on the mound. Philly has Roman Quinn out there and it's not going well -- six runs allowed so far. More pertinent are the on-going struggles of the Phillies' defense. Four errors have led to 11 unearned runs. According to the baseball-reference.com play index, that's the most unearned runs Philadelphia has allowed in a game since 1922.
Jesse Rogers
ESPN Staff Writer
All signs are a go for Cubs righty Yu Darvish to pitch in a minor league game on Sunday as he rehabs an elbow injury, according to manager Joe Maddon. The Cubs did not announce where he will pitch but Class-A South Bend is at home that day and close enough to Chicago that Cubs brass can make the quick trip to watch him if they desire. That's where Darvish pitched his last rehab start before being shut down. Maddon wouldn't commit to a number of starts in the minors for Darvish but said he wouldn't expect more than three: "He came in and said he felt great so he's ready to roll on Sunday."
Marly Rivera
ESPN Writer
MLB announced that José Ureña has received a six-game suspension and an undisclosed fine for intentionally hitting Ronald Acuña Jr. with a pitch in the bottom of the first inning of Wednesday night's game at SunTrust Park in Atlanta.
Marly Rivera
ESPN Writer
"There's a Neanderthal aspect to our game that needs to go away." –Joe Maddon on José Ureña plunking Ronald Acuña Jr.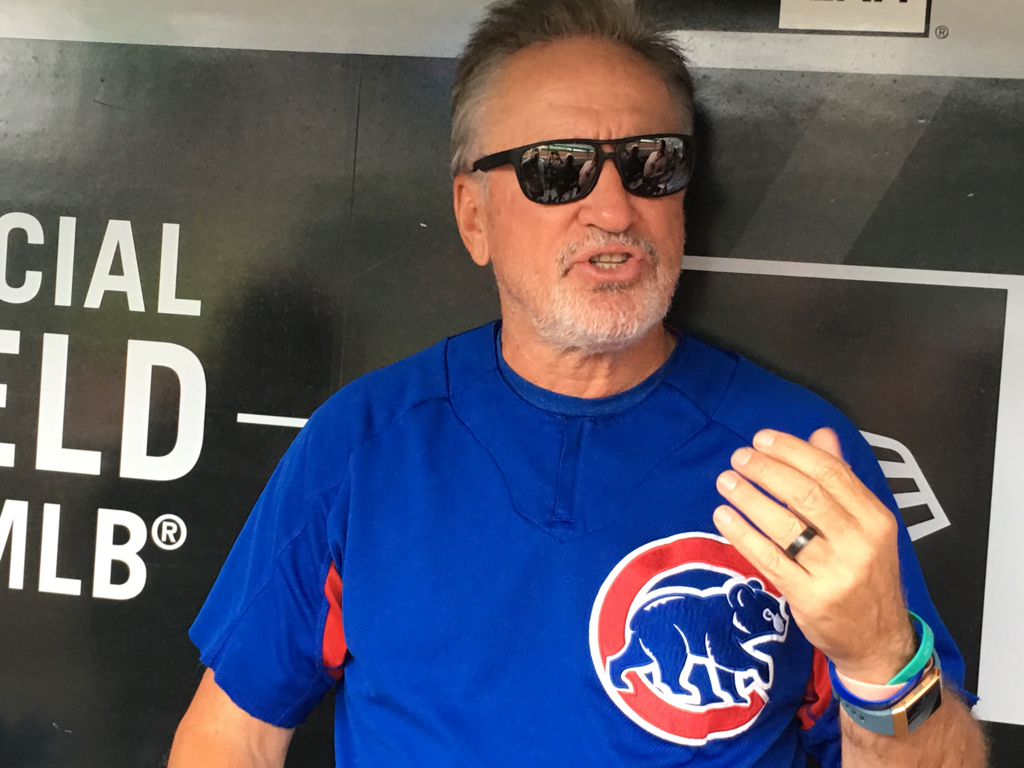 Buster Olney
@Buster_ESPN
Bob Gibson hit batsmen in his career: 102. CC Sabathia: 118 Johnny Cueto: 104 Ervin Santana: 102 Charlie Morton: 101 So: Narrative.