NBA Power Rankings: Streaking Cavaliers enter the top five
Originally Published:
November 27, 2017
ESPN.com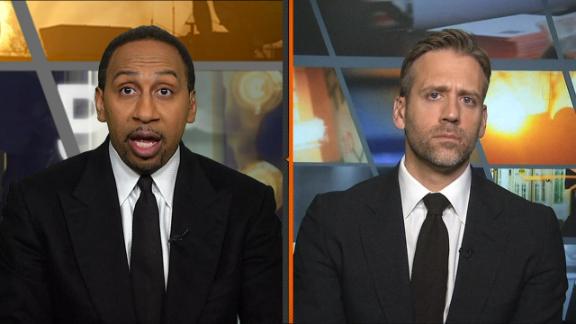 Are the Thunder a threat to the Warriors?
Stephen A. Smith and Max Kellerman are split on OKC's ability to challenge Golden State in the highly competitive Western Conference.
Are the Thunder a threat to the Warriors?
The Boston Celtics' 16-game winning streak may have come to an end, but their reign atop our rankings rolls on for at least another week.
While Kyrie Irving & Co. remain on top, we've got our eyes on another Eastern Conference power: the suddenly red-hot Cleveland Cavaliers, winners of seven straight heading into Monday's showdown with the Philadelphia 76ers.
In the Western Conference, the Houston Rockets have leapfrogged the Golden State Warriors thanks to an undefeated week paired with the Warriors' loss Wednesday night to the Oklahoma City Thunder.
Every Monday throughout the regular season, our panel -- ESPN's Kevin Arnovitz, Amin Elhassan and Ramona Shelburne, The Undefeated's Marc J. Spears and FiveThirtyEight's Chris Herring -- will rank the league's 30 teams from top to bottom, with research notes on each team provided by ESPN Stats & Information.
Previous rankings: Week 6 | Week 5 | Week 4 | Week 3 | Week 2 | Week 1
1. Boston Celtics
2017-18 record: 18-3
| PREV. RANK | LAST WEEK | THIS WEEK |
| --- | --- | --- |
| 1 | 3-1 | DET, PHI, PHX |
The Celtics couldn't put together a double-digit rally against the Heat on Wednesday and were handed just their third loss of the season. Boston has won 18 of its first 21 games of a season for the ninth time in team history and for the first time since 2008-09. Kyrie Irving has scored at least 20 points on 50 percent shooting in five straight games, one shy of matching his career high. -- Jose De Leon
---
2. Houston Rockets
2017-18 record: 15-4
| PREV. RANK | LAST WEEK | THIS WEEK |
| --- | --- | --- |
| 3 | 2-0 | BKN, IND, @LAL |
A big question going into the season was whether Chris Paul and James Harden would be able to mesh. With CP3 in the lineup, the Rockets are 5-0 with those wins coming by an average of 18.8 points. Houston has 11 wins by 15 points or more, the most in the first 20 games since the 1969-70 Knicks, who won the NBA title. -- Vincent Johnson
---
3. Golden State Warriors
2017-18 record: 15-5
| PREV. RANK | LAST WEEK | THIS WEEK |
| --- | --- | --- |
| 2 | 2-1 | SAC, @LAL, @ORL, @MIA |
Golden State has won its past two games by a combined 64 points, despite being without Kevin Durant. They've been just fine without KD in the lineup, having won 19 straight games including the playoffs when he doesn't play. Over the past two seasons, the Warriors actually have a better win percentage (.846 vs. .817) and average scoring margin (plus-12.2 vs. plus-11.7) without Durant. -- Vincent Johnson
---

4. San Antonio Spurs
2017-18 record: 12-7
| PREV. RANK | LAST WEEK | THIS WEEK |
| --- | --- | --- |
| 4 | 2-1 | DAL, MEM, @MEM, @OKC |
Tony Parker plans to make his season debut against the Mavericks on Monday. Last season, Parker averaged 10.1 points and 4.5 assists per game, his fewest since his rookie season. -- Jose De Leon
---
5. Cleveland Cavaliers
2017-18 record: 12-7
| PREV. RANK | LAST WEEK | THIS WEEK |
| --- | --- | --- |
| 8 | 3-0 | @PHI, MIA, @ATL, MEM |
Don't look now, but the Cavs have won seven straight. And in his 15th season, LeBron James is the NBA's leader in player efficiency rating at 30.6, which is third best in his career at this point of a season (he won MVP in the only two seasons with a higher PER through 19 games). That number gets even more absurd in the fourth quarter, skyrocketing to a league-best 45.1. Still, Cleveland has questions at point guard with Derrick Rose taking a hiatus and Isaiah Thomas still out. -- Vincent Johnson
---
6. Detroit Pistons
2017-18 record: 12-6
| PREV. RANK | LAST WEEK | THIS WEEK |
| --- | --- | --- |
| 7 | 1-1 | @BOS, PHX, @WAS, @PHI |
The Pistons are 12-6 this season, their best 18-game start to a season since starting 13-5 in 2007-08, the last time they made the Eastern Conference finals. -- ESPN Stats & Information
---
7. Toronto Raptors
2017-18 record: 12-7
| PREV. RANK | LAST WEEK | THIS WEEK |
| --- | --- | --- |
| 5 | 1-2 | CHA, IND |
The Raptors snapped a two-game losing streak thanks in part to a big second quarter against the Hawks on Saturday. Toronto outscored Atlanta by 25 points in the second period, the third-largest differential in a quarter in team history. Two of their three largest point differentials for a quarter have come against the Hawks. -- ESPN Stats & Information
---

8. Portland Trail Blazers
2017-18 record: 12-8
| PREV. RANK | LAST WEEK | THIS WEEK |
| --- | --- | --- |
| 11 | 3-1 | @NYK, MIL, NO |
Damian Lillard, Jusuf Nurkic and CJ McCollum combined to score 89 points in Friday's two-point win against the Nets, their second-highest point total as teammates. All three scored at least 25 points, the first time three Trail Blazers players had scored 25 points in the same game since November 2012. -- ESPN Stats & Information
---
9. Philadelphia 76ers
2017-18 record: 11-7
| PREV. RANK | LAST WEEK | THIS WEEK |
| --- | --- | --- |
| 14 | 3-0 | CLE, WAS, @BOS, DET |
The 76ers scored a season-high 130 points against the Magic on Saturday, their most in a regulation game since April 1994. In the win, JJ Redick finished with eight 3-pointers, matching his season high. No other player has made eight 3-pointers in a game this season. -- Jose De Leon
---
10. Minnesota Timberwolves
2017-18 record: 12-8
| PREV. RANK | LAST WEEK | THIS WEEK |
| --- | --- | --- |
| 6 | 2-2 | WAS, @NO, @OKC, LAC |
On Wednesday, the trio of former Kentucky big men will square off for the second time this season (Karl-Anthony Towns vs. DeMarcus Cousins and Anthony Davis). In the first meeting of the season, Towns was held to a career-low two points on a career-low 1-of-7 shooting. On the bright side, the Timberwolves did win that game. -- Jose De Leon
---

11. Denver Nuggets
2017-18 record: 11-8
| PREV. RANK | LAST WEEK | THIS WEEK |
| --- | --- | --- |
| 9 | 2-1 | @UTAH, CHI, LAL |
Paul Millsap will likely miss the next three months recovering from wrist surgery, and the Nuggets will miss his overall production. Millsap is one of four players to average at least 15 points, six rebounds and three assists in each of the past five seasons. The other three: Kevin Durant, Blake Griffin and LeBron James. -- Jose De Leon
---
12. New Orleans Pelicans
2017-18 record: 11-9
| PREV. RANK | LAST WEEK | THIS WEEK |
| --- | --- | --- |
| 16 | 3-1 | MIN, @UTAH, @POR |
Both DeMarcus Cousins and Anthony Davis are averaging 25-plus points and 10-plus rebounds, something no pair of teammates have ever maintained over the course of a full season. The Pelicans are above .500 through the first 20 games for the first time in Davis' career. -- Vincent Johnson
---
13. Indiana Pacers
2017-18 record: 11-9
| PREV. RANK | LAST WEEK | THIS WEEK |
| --- | --- | --- |
| 19 | 2-1 | ORL, @HOU, @TOR |
Prior to Saturday's loss against the Celtics, the Pacers had reeled off a season-high five straight wins. During its win streak, Indiana had the best 3-point percentage (47 percent) and fourth-best offensive efficiency (111.6) in the league. -- Jose De Leon
---

14. Washington Wizards
2017-18 record: 10-9
| PREV. RANK | LAST WEEK | THIS WEEK |
| --- | --- | --- |
| 10 | 1-2 | @MIN, @PHI, DET |
John Wall's absence will certainly be felt as he's expected to miss the next two weeks with a knee injury. In his most recent game played, he finished with his 15th career 30-point, 10-assist game, breaking a tie with Gilbert Arenas for the most such games in Wizards history, according to Elias Sports Bureau research. -- ESPN Stats & Information
---
15. Oklahoma City Thunder
2017-18 record: 8-11
| PREV. RANK | LAST WEEK | THIS WEEK |
| --- | --- | --- |
| 12 | 1-3 | @ORL, MIN, SA |
The Thunder snapped a seven-game head-to-head losing streak against the Warriors, but have since lost two straight -- one perpetuating their clutch time failures this season in a loss to the Pistons and their worst loss of the season by 16 points to a Mavericks team that entered tied for the second-worst record in the league. Oklahoma City is 0-9 in games decided by eight points or fewer and 0-8 in road games against the West. -- Vincent Johnson
---
16. Milwaukee Bucks
2017-18 record: 9-9
| PREV. RANK | LAST WEEK | THIS WEEK |
| --- | --- | --- |
| 13 | 1-2 | @SAC, @POR, SAC |
Three players have two games with at least 40 points this season, and two are teammates on the Bucks: Giannis Antetokounmpo and Khris Middleton (James Harden is the other). Middleton recorded his second 40-point game of the season in a game without Antetokounmpo against the Suns on Wednesday. -- Jose De Leon
---

17. Miami Heat
2017-18 record: 10-9
| PREV. RANK | LAST WEEK | THIS WEEK |
| --- | --- | --- |
| 21 | 3-0 | @CLE, @NYK, CHA, GS |
Miami ended Boston's 16-game win streak and followed that up with a double-digit road win over the Timberwolves. The Heat rank first in the league in opponent field goal percentage in the paint, according to Second Spectrum (49.5 percent). Hassan Whiteside has yet to duplicate his road production at home. He has five 20-point games this season, but none have come at American Airlines Arena. -- Vincent Johnson
---
18. New York Knicks
2017-18 record: 10-9
| PREV. RANK | LAST WEEK | THIS WEEK |
| --- | --- | --- |
| 18 | 2-2 | POR, MIA, ORL |
Playing without Kristaps Porzingis on Saturday, the Knicks blew a 22-point lead to the Rockets. It was the third time already this season that New York lost a game after leading by 20 points or more. The Knicks are the first team in the past 20 seasons to blow a 20-point lead that many times within the first 20 games of a season. -- Vincent Johnson
---

19. Utah Jazz
2017-18 record: 9-11
| PREV. RANK | LAST WEEK | THIS WEEK |
| --- | --- | --- |
| 20 | 2-1 | DEN, @LAC, NO |
After losing seven of their previous eight games, the Jazz have won three of their past four. Utah had arguably its best offensive game of the season on Saturday against the Bucks, shooting a season-high 57 percent from the floor and 56 percent from 3-point range. The Jazz made a franchise-record 18 3-pointers in that game. -- Jose De Leon
---
20. Charlotte Hornets
2017-18 record: 8-11
| PREV. RANK | LAST WEEK | THIS WEEK |
| --- | --- | --- |
| 23 | 2-2 | @TOR, @MIA |
On Friday against the Cavaliers, the Hornets held a five-point lead with under four minutes to play, but wound up losing by one. Charlotte has now lost 12 consecutive one-possession games, one shy of matching the 2015-16 76ers for the longest such streak since the 3-point line was implemented in 1979. -- ESPN Stats & Information
---
21. Memphis Grizzlies
2017-18 record: 7-12
| PREV. RANK | LAST WEEK | THIS WEEK |
| --- | --- | --- |
| 15 | 0-4 | @SA, SA, @CLE |
The Grizzlies have been a playoff team every year since the 2010-11 season. Their current eight-game losing streak is their longest since the playoff run began. -- Jose De Leon
---
22. Orlando Magic
2017-18 record: 8-12
| PREV. RANK | LAST WEEK | THIS WEEK |
| --- | --- | --- |
| 17 | 0-4 | @IND, OKC, GS, @NYK |
Remember when the Magic were first in the Eastern Conference? They've come back down to Earth in a major way, losers of their past eight games by more than 15 points per game. In that time, their defensive efficiency ranks last in the league. -- Vincent Johnson
---
23. LA Clippers
2017-18 record: 7-11
| PREV. RANK | LAST WEEK | THIS WEEK |
| --- | --- | --- |
| 22 | 2-1 | LAL, UTAH, @DAL, @MIN |
After losing nine straight games for the first time since November 2010, Blake Griffin has propelled the Clippers to back-to-back wins. On Wednesday against the Hawks, he recorded his first triple-double of the season and sixth of his career. On Saturday against the Kings, he scored a season-high 33 points, including the go-ahead shot with 3.7 seconds left in the game. -- Jose De Leon
---
24. Los Angeles Lakers
2017-18 record: 8-11
| PREV. RANK | LAST WEEK | THIS WEEK |
| --- | --- | --- |
| 24 | 1-1 | @LAC, GS, @DEN, HOU |
Lonzo Ball and Stephen Curry will square off for the first time this season on Wednesday. Earlier this season, LaVar Ball said his son was already better than Curry. Through 19 career games, Ball is averaging 7.4 rebounds and 7.1 assists per game (Curry averaged 3.2 RPG and 5.1 APG) but is shooting 32 percent from the floor and 25 percent from 3-point range. So far this season, Curry has shot 43 percent from the floor and 37 percent from 3. -- Jose De Leon
---
25. Brooklyn Nets
2017-18 record: 7-12
| PREV. RANK | LAST WEEK | THIS WEEK |
| --- | --- | --- |
| 25 | 1-2 | @HOU, @DAL, ATL |
The Nets had a six-point lead with less than 2:30 to play in their loss against the Trail Blazers on Friday. Brooklyn became the third team to lose a game despite holding a six-point lead in the final 2:30 of a game this season, joining the 76ers and Wizards, who both have two such losses. -- Jose De Leon
---
26. Phoenix Suns
2017-18 record: 7-14
| PREV. RANK | LAST WEEK | THIS WEEK |
| --- | --- | --- |
| 26 | 0-3 | @CHI, @DET, @BOS |
The Suns kicked off their season-high six-game road trip with a loss against the Timberwolves on Sunday. Following the end of this trip, they already will have played their two longest road trips of the season. -- Jose De Leon
---
27. Dallas Mavericks
2017-18 record: 5-15
| PREV. RANK | LAST WEEK | THIS WEEK |
| --- | --- | --- |
| 28 | 2-1 | @SA, BKN, LAC |
The Mavericks are on a winning streak for the first time this season. On Wednesday against the Grizzlies, Harrison Barnes made his first career buzzer-beater, the fifth game-winning, banked 3-pointer at the buzzer in the past 10 seasons, joining Andrew Wiggins (October 2017), Joe Johnson (February 2016), Khris Middleton (December 2014) and Kobe Bryant (December 2009). -- Vincent Johnson
---
28. Sacramento Kings
2017-18 record: 5-14
| PREV. RANK | LAST WEEK | THIS WEEK |
| --- | --- | --- |
| 27 | 1-2 | @GS, MIL, @CHI, @MIL |
The Kings play four of their next five on the road, starting with the Warriors on Monday. Sacramento has lost eight straight on the road versus Golden State, its longest streak since both teams have been located in California. The Kings have been outscored by more than 20 points per game during the losing streak. -- Jose De Leon
---

29. Atlanta Hawks
2017-18 record: 4-16
| PREV. RANK | LAST WEEK | THIS WEEK |
| --- | --- | --- |
| 29 | 1-3 | CLE, @BKN |
The Hawks played on Saturday against the Raptors and won't play again until Thursday against the Cavaliers. Only one other team has had four days of rest between games this season. The Hornets played on Nov. 10 against the Celtics and then played none other than the Cavaliers on Nov. 15. Cleveland won that matchup. -- Jose De Leon
---
30. Chicago Bulls
2017-18 record: 3-15
| PREV. RANK | LAST WEEK | THIS WEEK |
| --- | --- | --- |
| 30 | 0-4 | PHX, @DEN, SAC |
On Sunday, the Bulls (13 points) and Heat (seven points) combined to score 20 in the first quarter, the third-fewest combined points in the first quarter of a game in the shot-clock era (since 1954-55). -- ESPN Stats & Information