NBA Power Rankings: Houston to No. 1 after near-flawless November
Originally Published:
December 4, 2017
ESPN.com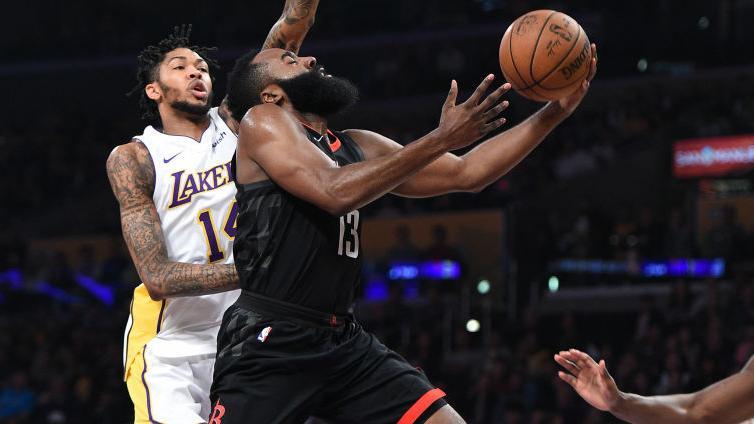 Rockets cruise against Lakers
James Harden drops 36 points while Eric Gordon scores 20 of his 22 points in the first half of a 118-95 win over the Lakers.
Rockets cruise against Lakers
NEXT VIDEO
The Boston Celtics may own the NBA's best record, and the Cleveland Cavaliers may have the league's longest active winning streak, but no team is playing better basketball right now than the Houston Rockets: our new Power Rankings No. 1.
More from ESPN.com
We've unveiled our rankings for Week 8 in the NBA. How'd we do? Let us know by re-ranking our 1-30 list. Story
---
James Harden, LeBron James and Giannis Antetokounmpo are battling it out for the top spot, but standout players in Indiana, Detroit, Utah and Orlando also climbed the leaderboard this week. Story
Behind Western Conference Player of the Month James Harden, Houston has run its own streak to seven while winning 13 of its past 14 games.
Every Monday throughout the regular season, our panel -- ESPN's Kevin Arnovitz, Amin Elhassan and Ramona Shelburne, The Undefeated's Marc J. Spears and FiveThirtyEight's Chris Herring -- will rank the league's 30 teams from top to bottom, with research notes on each team provided by ESPN Stats & Information.
Previous: Week 7 | Week 6 | Week 5 | Week 4 | Week 3 | Week 2 | Week 1
1. Houston Rockets
2017-18 record: 18-4
| PREV. RANK | LAST WEEK | THIS WEEK |
| --- | --- | --- |
| 2 | 3-0 | @UTAH, @POR |
Not only are the Rockets 7-0 since Chris Paul returned, they've led by as many as 20 points in each of those seven wins. Mike D'Antoni's luxury of staggering his two all-world playmakers has yielded returns that are nothing short of, well ... staggering. Since Paul's return, the Rockets have posted a net rating of plus-43.9 in the 69 minutes that he's played without James Harden. And in the 118 minutes that Harden has been on the floor without Paul, the Rockets have a net rating of plus-32.7. -- Micah Adams
---
2. Boston Celtics
2017-18 record: 20-4
| PREV. RANK | LAST WEEK | THIS WEEK |
| --- | --- | --- |
| 1 | 2-1 | MIL, DAL, @SA, @DET |
Jayson Tatum made at least half of his 3-pointers in all three games last week and now sits No. 1 in the NBA in 3-point field goal percentage, a stat that no Celtics player in history has ever led. Even if he falls back down to earth, Tatum's outside shot is a pleasant surprise after he shot 34 percent from beyond the arc in his one season at Duke. -- Micah Adams
---
3. Golden State Warriors
2017-18 record: 18-6
| PREV. RANK | LAST WEEK | THIS WEEK |
| --- | --- | --- |
| 3 | 3-1 | @NO, @CHA, @ DET |
One of the secrets to the Warriors' success is their off-ball movement. On chances with at least one off-ball screen, the Warriors average a league-leading 1.04 points per chance. According to Second Spectrum, every other team averages fewer than one point per chance. Leading the way? Kevin Durant, whose 1.12 points per chance as a cutter off ball screens lead the league. -- Ben Alamar
---
4. Cleveland Cavaliers
2017-18 record: 16-7
| PREV. RANK | LAST WEEK | THIS WEEK |
| --- | --- | --- |
| 5 | 4-0 | @CHI, SAC, @IND, PHI |
LeBron James scored Cleveland's final 13 points in Saturday's win over Memphis, continuing what's been a career year for him late in games. His player efficiency rating of 44.1 in the fourth quarter is far and away the best in the NBA -- Kristaps Porzingis is No. 2 at 35.4 -- and would also be easily the highest of his career. -- Micah Adams
---

5. San Antonio Spurs
2017-18 record: 15-8
| PREV. RANK | LAST WEEK | THIS WEEK |
| --- | --- | --- |
| 4 | 3-1 | DET, MIA, BOS, @PHX |
Although the Spurs are sitting pretty at 15-8 without Kawhi Leonard, the offense clearly needs a spark. It currently ranks 18th in offensive efficiency, which would be the worst in any full season under Gregg Popovich and could specifically use Leonard's ability to create on his own. According to Second Spectrum, the Spurs rank just 26th in points per direct isolation. -- Micah Adams
---
6. Toronto Raptors
2017-18 record: 14-7
| PREV. RANK | LAST WEEK | THIS WEEK |
| --- | --- | --- |
| 7 | 2-0 | PHX, @MEM, @SAC |
Over his past 10 games, Kyle Lowry is averaging 20.3 points, 7.5 rebounds and 7.5 assists per game while shooting 50 percent from the floor and 48 percent from 3-point range. In that span, his player efficiency rating is 25.5, better than Stephen Curry's or Russell Westbrook's in that span. Entering this hot stretch, Lowry's PER was just below the level of an average NBA player at 14.9. -- Vincent Johnson
---
7. Detroit Pistons
2017-18 record: 14-8
| PREV. RANK | LAST WEEK | THIS WEEK |
| --- | --- | --- |
| 6 | 2-2 | @SA, @MIL, GS, BOS |
Going strictly by your back-of-the-card stats not named free throw shooting, it would appear that not much has changed for Andre Drummond, who is once again among the league leaders in double-doubles while averaging more than a block and steal per game. The biggest difference now? His team isn't glaringly better with him on the bench. Last season, the Pistons were 10.9 points per 100 possessions better with him out of the game. So far in 2017-18, it's a wash, as the Pistons have an almost identical net rating with him on the floor (plus-1.4) vs. with him on the bench (plus-1.3). -- Micah Adams
---
8. Philadelphia 76ers
2017-18 record: 13-9
| PREV. RANK | LAST WEEK | THIS WEEK |
| --- | --- | --- |
| 9 | 2-2 | PHX, LAL, @CLE, @NO |
For all the attention (rightfully) given to Joel Embiid and Ben Simmons, it's worth giving some love to Robert Covington, who currently ranks No. 6 in Real Plus-Minus while ranking first among all perimeter players in Defensive Real Plus-Minus. In the 94 minutes that Embiid and Simmons have shared the floor without Covington, the 76ers have posted a net rating of minus-9.2. In the 321 minutes that Covington has joined the Sixers' star duo, the Sixers' net rating skyrockets to plus-15.4. -- Micah Adams
---
9. Minnesota Timberwolves
2017-18 record: 14-10
| PREV. RANK | LAST WEEK | THIS WEEK |
| --- | --- | --- |
| 10 | 2-2 | @MEM, @LAC, DAL |
After Sunday's win, Minnesota is 7-5 this season in games within five points in the final five minutes of the fourth quarter or overtime. Last year, the Timberwolves went 15-30 in those games and did not record their seventh such win until Jan. 22. -- Micah Adams
---

10. Denver Nuggets
2017-18 record: 13-9
| PREV. RANK | LAST WEEK | THIS WEEK |
| --- | --- | --- |
| 11 | 2-1 | @DAL, @NO, @ORL, @IND |
The Nuggets are set to take their 3-7 away record on a six-game road trip, with Nikola Jokic (ankle) uncertain to return during the travels. Denver hasn't broken even on its past seven road trips lasting at least five games; the last successful road trip of that many games was a 4-2 trip in December 2013 under Brian Shaw. -- Law Murray
---

11. Portland Trail Blazers
2017-18 record: 13-10
| PREV. RANK | LAST WEEK | THIS WEEK |
| --- | --- | --- |
| 8 | 1-2 | WAS, HOU |
Even after getting touched up by Boogie Cousins for 38 points Saturday night, the Blazers rank fourth in defensive efficiency, and no team allows a lower field goal percentage in the restricted area (54.1 percent). -- Law Murray
---
12. Milwaukee Bucks
2017-18 record: 12-9
| PREV. RANK | LAST WEEK | THIS WEEK |
| --- | --- | --- |
| 16 | 3-0 | @BOS, DET, DAL, UTAH |
Since Eric Bledsoe made his Bucks debut on Nov. 10, they are 8-3 while the Bledsoe-Giannis Antetokounmpo pairing has shown significant promise. In the 259 minutes they've shared the floor, the Bucks have outscored their opponents by 90 points and posted a sterling net rating of plus-17.9. -- Micah Adams
---

13. Washington Wizards
2017-18 record: 12-10
| PREV. RANK | LAST WEEK | THIS WEEK |
| --- | --- | --- |
| 14 | 2-1 | @UTAH, @POR, @PHX, @LAC |
The Wizards have held their own without the injured John Wall, going 2-2 since the guard went down with a left knee injury, highlighted by an 18-point win over the Pistons. The bench has stepped it up in that time, averaging 46 points per game, up from the 30.8 points it averaged before this stretch. -- Vincent Johnson
---
14. Oklahoma City Thunder
2017-18 record: 10-12
| PREV. RANK | LAST WEEK | THIS WEEK |
| --- | --- | --- |
| 15 | 2-1 | UTAH, @BKN, @MEM |
OKC finally won some close games, squeaking by Minnesota and San Antonio after beginning the season 0-9 in games decided by eight points or fewer. Both wins were far from convincing in terms of Russell Westbrook's new sidekicks, however. Carmelo Anthony was held to single-digit scoring in back-to-back games for the first time in his career, while Paul George went 2-for-17 in Sunday night's win over San Antonio (which was playing without both Kawhi Leonard and LaMarcus Aldridge). -- Micah Adams
---

15. Utah Jazz
2017-18 record: 12-11
| PREV. RANK | LAST WEEK | THIS WEEK |
| --- | --- | --- |
| 19 | 3-0 | WAS, @OKC, HOU, @MIL |
The Jazz have won their past five games by an average of 19.4 points. They've made at least 12 3-pointers in each of those, the longest such streak in franchise history. In Utah's last win over the Pelicans, Donovan Mitchell became the first rookie with a 40-point game since Blake Griffin in 2010-11 and the first rookie in Jazz history to drop 40 in a game. -- Vincent Johnson
---
16. Indiana Pacers
2017-18 record: 12-11
| PREV. RANK | LAST WEEK | THIS WEEK |
| --- | --- | --- |
| 13 | 1-2 | NYK, CHI, CLE, DEN |
The Pacers open up a season-long six-game homestand on Monday against the Knicks. It's a potentially big stretch of games for the Pacers, who could sit on the playoff fringe the entire season. BPI has the Pacers favored in four of the six with games against the Cavaliers and Thunder essentially a coin flip. A strong homestand now could pay major dividends come spring. -- Micah Adams
---
17. New Orleans Pelicans
2017-18 record: 12-11
| PREV. RANK | LAST WEEK | THIS WEEK |
| --- | --- | --- |
| 12 | 1-2 | GS, DEN, SAC, PHI |
The Pelicans are holding their breath that Anthony Davis' absence won't be long, even with DeMarcus Cousins available. While the Pelicans have a plus-4.4 net rating with both Davis and Cousins on the floor and a plus-6.5 net rating when Davis is on and Cousins is off, their net rating drops to minus-9.2 when Cousins is on the floor without Davis. -- Law Murray
---
18. New York Knicks
2017-18 record: 11-11
| PREV. RANK | LAST WEEK | THIS WEEK |
| --- | --- | --- |
| 18 | 1-2 | @IND, MEM, @CHI, ATL |
Enes Kanter likely will not make the All-Star team. Kristaps Porzingis likely will make the All-Star team. We're not going to debate the merits of that because it's absolutely the way it should play out. That being said, we'd be remiss if we failed to give credit where it's due, which is to Kanter, who has a higher player efficiency rating, more win shares and a better Real Plus-Minus than his frontcourt partner. -- Micah Adams
---

19. Miami Heat
2017-18 record: 11-12
| PREV. RANK | LAST WEEK | THIS WEEK |
| --- | --- | --- |
| 17 | 1-3 | @SA, @BKN |
Hassan Whiteside will miss the next one to two weeks with a knee injury. In 402 minutes with Whiteside on the court, the Heat have a defensive efficiency rating of 99.3, which would rank as the second-best NBA team defense. In the 707 minutes with Whiteside off the court, the Heat have a defensive efficiency rating of 107.7, which would rank 22nd in the NBA. -- Law Murray
---
20. Orlando Magic
2017-18 record: 10-14
| PREV. RANK | LAST WEEK | THIS WEEK |
| --- | --- | --- |
| 22 | 2-2 | @CHA, ATL, DEN, @ATL |
After losing nine games in a row, the Magic finally broke their losing streak behind a 40-point, 15-rebound, six-3-pointer game from Aaron Gordon against the Thunder. The only other players in NBA history with those totals in a single game are James Harden (December 2016, January 2017) and Vince Carter (April 2007). -- Law Murray
---
21. Charlotte Hornets
2017-18 record: 8-13
| PREV. RANK | LAST WEEK | THIS WEEK |
| --- | --- | --- |
| 20 | 0-2 | ORL, GS, CHI, LAL |
It's potentially danger time for the Hornets, who have dropped four straight games. These early slides can have long-term implications. Heading into the game against Cleveland on Nov. 24, BPI gave Charlotte a 55 percent chance of making the playoffs. The skid has cut those odds in half, as Charlotte now has just a 27 percent shot. -- Micah Adams
---
22. LA Clippers
2017-18 record: 8-14
| PREV. RANK | LAST WEEK | THIS WEEK |
| --- | --- | --- |
| 23 | 1-3 | MIN, WAS |
Sunday's loss to Minnesota perfectly summed up the current state of affairs for the banged-up Clippers, who are working without Blake Griffin, Danilo Gallinari, Patrick Beverley and Milos Teodosic. The Clippers got big games from Austin Rivers (30 points, seven 3-pointers), DeAndre Jordan (17 points, 12 rebounds, 8-for-8 shooting) and Lou Williams (23 points off the bench) yet still didn't have the horses to stay with the Timberwolves. -- Micah Adams
---
23. Los Angeles Lakers
2017-18 record: 8-15
| PREV. RANK | LAST WEEK | THIS WEEK |
| --- | --- | --- |
| 24 | 0-4 | @PHI, @CHA |
Lonzo Ball's first game against the two-headed PG monster of Chris Paul and James Harden didn't go very well on Sunday, as he went 0-for-4 with 3 assists and 3 turnovers in 22 minutes. It marked the second time this season that Ball failed to make a single field goal, the other coming on Nov. 2 in his first game against Portland's Damian Lillard. In those two games, Paul and Lillard combined to outscore Ball 53-2. -- Micah Adams
---
24. Brooklyn Nets
2017-18 record: 8-14
| PREV. RANK | LAST WEEK | THIS WEEK |
| --- | --- | --- |
| 25 | 1-2 | @ATL, OKC, MIA |
A silver lining to the injury of D'Angelo Russell has been the emergence of Spencer Dinwiddie as an impact player. Now the starter with Russell out, Dinwiddie has since averaged a team-high 16.2 points and 8.0 assists per game and currently ranks seventh in Real Plus-Minus among point guards. -- Micah Adams
---
25. Memphis Grizzlies
2017-18 record: 7-15
| PREV. RANK | LAST WEEK | THIS WEEK |
| --- | --- | --- |
| 21 | 0-3 | MIN, @NYK, TOR, OKC |
The Grizzlies have lost 11 straight games, their longest losing streak since January 2009. According to the Elias Sports Bureau, when the Cavaliers beat Memphis on Saturday, it was the 10th time in NBA history that a team on a single-season win streak of at least 10 games met a team on a double-digit losing streak. The team on the win streak improved to 8-2 in those games. -- ESPN Stats & Info
---
26. Phoenix Suns
2017-18 record: 8-16
| PREV. RANK | LAST WEEK | THIS WEEK |
| --- | --- | --- |
| 26 | 1-2 | @PHI, @TOR, WAS, SA |
Devin Booker scored 32 fewer points than he did in his last trip to Boston in Saturday's loss to the Celtics, but he still tallied a season-high 38 points after of course dropping 70 in March 2017. This was Booker's ninth 30-point game, which trails only LeBron James for most in the NBA this season. -- Michael Schwartz
---
27. Sacramento Kings
2017-18 record: 7-16
| PREV. RANK | LAST WEEK | THIS WEEK |
| --- | --- | --- |
| 28 | 2-2 | @CLE, @NO, TOR |
Learning how to play point guard in the NBA is notoriously difficult. And though he's certainly shown some bright spots, it's been a learning experience, to say the least, for De'Aaron Fox, who ranks last among the 444 qualified players in Real Plus-Minus. -- Micah Adams
---
28. Dallas Mavericks
2017-18 record: 6-17
| PREV. RANK | LAST WEEK | THIS WEEK |
| --- | --- | --- |
| 27 | 1-2 | DEN, @BOS, @MIL, @MIN |
Twenty years into a Hall of Fame career, Dirk Nowitzki is still evolving. One new trick this old dog has learned? How to be an effective screener. In fact, Nowitzki is currently grading out as the best in the NBA. According to Second Spectrum, Nowitzki's off-ball screens have generated 1.03 points per chance, which ranks first among the 25 players who have set the most screens. -- Micah Adams
---

29. Atlanta Hawks
2017-18 record: 5-17
| PREV. RANK | LAST WEEK | THIS WEEK |
| --- | --- | --- |
| 29 | 1-1 | BKN, @ORL, ORL, @NYK |
Dennis Schroder is certainly getting his opportunity to carry an offense, as he currently ranks third in the NBA in touches per game behind only Ben Simmons and Russell Westbrook, according to Second Spectrum. It's Schroder or bust for the Hawks, who are 0-10 in games he doesn't play or scores fewer than 20 points. -- Micah Adams
---
30. Chicago Bulls
2017-18 record: 3-18
| PREV. RANK | LAST WEEK | THIS WEEK |
| --- | --- | --- |
| 30 | 0-3 | CLE, @IND, @CHA, NYK |
The Bulls are being outscored by an average of 11.1 points per game this season, which would be the worst figure in the league in six seasons. The last team to have a worse point differential was the Bobcats in the 2011-12 lockout-shortened season -- they were outscored by an average of 13.9 points per game on their way to the worst win percentage in NBA history. -- Law Murray