NBA Power Rankings: Thunder continue to make noise out west
Originally Published:
January 29, 2018
ESPN.com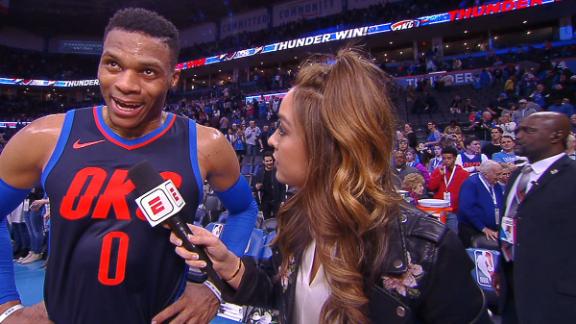 Westbrook: 'All I care about is winning'
Russell Westbrook discusses how he is finding his groove, the competitive history between the 76ers and Thunder, and Paul George participating in the All-Star Game after DeMarcus Cousins' season-ending injury.
Westbrook: 'All I care about is winning'
While the Golden State Warriors and Houston Rockets continue to separate themselves from the pack in the West, the Oklahoma City Thunder are keeping pace behind an eight-game win streak.
In the East, the Boston Celtics are clinging to a one-game cushion over the Toronto Raptors, while the Cleveland Cavaliers have gathered themselves somewhat with their first set of back-to-back wins since mid-December.
Every week throughout the regular season, our panel (ESPN's Kevin Arnovitz, Amin Elhassan and Ramona Shelburne, The Undefeated's Marc J. Spears and FiveThirtyEight's Chris Herring) will rank the league's 30 teams from top to bottom, with research notes on each team provided by ESPN Stats & Information.
Prev. rankings: Week 15 | 14 | 13 | 12 | 11 | 10 | 9 | 8 | 7 | 6 | 5 | 4 | 3 | 2 | 1
1. Golden State Warriors
2017-18 record: 40-10
| PREV. RANK | LAST WEEK | THIS WEEK |
| --- | --- | --- |
| 1 | 3-0 | @UTAH, @SAC, @DEN |
Stephen Curry made eight 3-pointers on his way to a season-high 49 points in Saturday's win over the Celtics. This was Curry's 36th career game making at least eight 3-pointers. The next three players with the most such games in NBA history -- JR Smith, Klay Thompson and Ray Allen -- have combined for 33 such games. -- Michael Schwartz
---
2. Houston Rockets
2017-18 record: 35-13
| PREV. RANK | LAST WEEK | THIS WEEK |
| --- | --- | --- |
| 2 | 3-1 | ORL, @SA, @CLE |
Friday's loss against the Pelicans was the Rockets' first with James Harden, Chris Paul and Clint Capela all in the lineup (now 20-1). A streak that is still alive is their run of games with at least 10 made 3-pointers, which currently sits at an NBA-record 44 straight. -- Jose De Leon
---
3. Boston Celtics
2017-18 record: 35-15
| PREV. RANK | LAST WEEK | THIS WEEK |
| --- | --- | --- |
| 3 | 1-2 | @DEN, NY, ATL, POR |
The Celtics sport the NBA's second-worst offensive efficiency since Christmas, yet they've been able to get by with an 8-6 record in this time, as their defense has remained the NBA's best. -- Michael Schwartz
---
4. Toronto Raptors
2017-18 record: 33-15
| PREV. RANK | LAST WEEK | THIS WEEK |
| --- | --- | --- |
| 4 | 2-1 | MIN, @WAS, POR, MEM |
Kyle Lowry became the third Raptor to be named an All-Star in four straight seasons, joining Chris Bosh and Vince Carter (both five straight). Lowry and DeMar DeRozan have been named All-Stars each of the past three seasons; the only other teammates named All-Stars in each of the past three seasons are Golden State's Stephen Curry, Draymond Green and Klay Thompson. -- Jose De Leon
---
5. Minnesota Timberwolves
2017-18 record: 32-20
| PREV. RANK | LAST WEEK | THIS WEEK |
| --- | --- | --- |
| 5 | 2-2 | @ATL, @TOR, MIL, NO |
Jimmy Butler returned to the lineup on Saturday after missing four games in a 14-point win against the Nets. This season, the Timberwolves are 2-4 and allowing 121.3 points per game without Butler in the lineup. When the All-Star is playing, Minnesota is 30-16, allowing 103.9 points per game. -- Matt Williams
---
6. Oklahoma City Thunder
2017-18 record: 30-20
| PREV. RANK | LAST WEEK | THIS WEEK |
| --- | --- | --- |
| 7 | 4-0 | @WAS, @DEN, NO, LAL |
How much will the Thunder miss Andre Roberson's defense? In 539 minutes with Roberson joining Russell Westbrook, Paul George, Carmelo Anthony and Steven Adams on the floor, the Thunder allowed a measly 95.9 points per 100 possessions. In 402 minutes for the Thunder's four starters without Roberson, they allow 114.5 points per 100 possessions. -- Michael Schwartz
---

7. San Antonio Spurs
2017-18 record: 33-19
| PREV. RANK | LAST WEEK | THIS WEEK |
| --- | --- | --- |
| 6 | 3-1 | DEN, HOU, UTAH |
Dejounte Murray has taken over as the Spurs' starting point guard and is averaging 13.5 points, 5.3 assists and 8.3 rebounds per game in his past four starts. Before a move to a bench role, Tony Parker had started 587 consecutive regular-season and playoff games. -- Jose De Leon
---
8. Cleveland Cavaliers
2017-18 record: 29-19
| PREV. RANK | LAST WEEK | THIS WEEK |
| --- | --- | --- |
| 8 | 2-1 | @DET, MIA, HOU |
The Cavaliers face the Rockets on Saturday (8:30 p.m. ET on ABC) and have the seventh-best record in the NBA. Cleveland is 1-7 against the six teams ahead of it in the standings (Warriors, Rockets, Celtics, Raptors, Spurs, Timberwolves) with the only win coming against Boston in the season opener. -- Jose De Leon
---

9. Portland Trail Blazers
2017-18 record: 27-22
| PREV. RANK | LAST WEEK | THIS WEEK |
| --- | --- | --- |
| 10 | 2-1 | @LAC, CHI, @TOR, @BOS |
The Trail Blazers are 5-1 in their past six games and have been able to win on the strength of their offense. They're averaging 115.3 points per 100 possessions, percentage points ahead of the Warriors for the second best in the league during that stretch behind the red-hot Thunder. They've also figured out their issues in home games, having won each of their past seven after losing six in a row in Portland. -- Vincent Johnson
---

10. Miami Heat
2017-18 record: 28-21
| PREV. RANK | LAST WEEK | THIS WEEK |
| --- | --- | --- |
| 9 | 1-2 | @DAL, @CLE, @PHI, @DET |
The Heat won yet another close game on Saturday against the Hornets. Miami's 21 victories in games that go to clutch time (within five points in the final five minutes) are the most in the NBA and its .656 win percentage in such games is fifth best in the NBA behind the Warriors, Cavs, Spurs and Celtics. -- Michael Schwartz
---
11. Milwaukee Bucks
2017-18 record: 26-22
| PREV. RANK | LAST WEEK | THIS WEEK |
| --- | --- | --- |
| 12 | 3-0 | PHI, @MIN, NY, @BKN |
The Bucks take on the Knicks for the first time this season on Friday. Giannis Antetokounmpo and Kristaps Porzingis have squared off five times in their careers, and Antetokounmpo has outscored Porzingis in four of those five meetings. They have scored 20 points in the same game just once, on Jan. 6, 2017 (Antetokounmpo 25, Porzingis 24 in the win). -- Jose De Leon
---
12. Philadelphia 76ers
2017-18 record: 24-22
| PREV. RANK | LAST WEEK | THIS WEEK |
| --- | --- | --- |
| 13 | 2-2 | @MIL, @BKN, MIA, @IND |
The 76ers swept the two-game season series against the Spurs, doing so for the first time since 2003-04. San Antonio had swept the season series each of the previous six years. Friday's 19-point win was Philadelphia's biggest in San Antonio. -- Jose De Leon
---

13. Washington Wizards
2017-18 record: 27-22
| PREV. RANK | LAST WEEK | THIS WEEK |
| --- | --- | --- |
| 11 | 1-2 | OKC, TOR, @ORL |
Bradley Beal was named to his first All-Star Game and John Wall is making his fifth straight appearance. It's the first time the Wizards have multiple All-Stars in a season since Caron Butler and Antawn Jamison in 2008. -- Jose De Leon
---

14. Denver Nuggets
2017-18 record: 26-23
| PREV. RANK | LAST WEEK | THIS WEEK |
| --- | --- | --- |
| 16 | 3-0 | BOS, @SA, OKC, GS |
It's a brutal week ahead for the Nuggets, with the quartet of Boston, San Antonio, Oklahoma City and Golden Slate on the slate in a span of six days. That's the fourth-toughest four-game stretch any team will face this season, according to ESPN's Basketball Power Index. By that metric, they have a 2 percent chance to go 4-0 this week. -- Vincent Johnson
---
15. LA Clippers
2017-18 record: 25-24
| PREV. RANK | LAST WEEK | THIS WEEK |
| --- | --- | --- |
| 14 | 2-2 | POR, CHI |
On Friday against the Grizzlies, Lou Williams scored 40 points for the fourth time this season, tied with Giannis Antetokounmpo for the second-most 40-point games in the league this season (James Harden leads with six). He also added 10 assists, joining Chris Paul (three) as the only players with 40 and 10 in a game in Clippers history. -- Jose De Leon
---
16. Indiana Pacers
2017-18 record: 27-23
| PREV. RANK | LAST WEEK | THIS WEEK |
| --- | --- | --- |
| 17 | 2-1 | CHA, MEM, @CHA, PHI |
On Saturday, the Pacers won for the third time this season after overcoming a 20-point deficit. That's tied for the most wins after trailing by 20 in a single season in the past 20 years. -- Michael Schwartz
---
17. New Orleans Pelicans
2017-18 record: 27-22
| PREV. RANK | LAST WEEK | THIS WEEK |
| --- | --- | --- |
| 15 | 3-1 | SAC, @OKC, @MIN |
DeMarcus Cousins was having an MVP-type season from a statistical standpoint before rupturing his Achilles. Cousins became just the fifth player in the past 50 seasons to record 25 points, 10 rebounds and 5 assists per game in a season. The other four players (Kareem Abdul-Jabbar, Larry Bird, Charles Barkley and Russell Westbrook) all won MVP honors those seasons. -- Michael Schwartz
---

18. Utah Jazz
2017-18 record: 21-28
| PREV. RANK | LAST WEEK | THIS WEEK |
| --- | --- | --- |
| 19 | 2-1 | GS, @PHX, @SA |
The Jazz won consecutive games for the first time since winning six straight from Nov. 22 to Dec. 4, holding both the Pistons and Raptors to fewer than 100 points. It is the first time this season Utah has held consecutive road opponents to fewer than 100. -- Matt Williams
---
19. Detroit Pistons
2017-18 record: 22-26
| PREV. RANK | LAST WEEK | THIS WEEK |
| --- | --- | --- |
| 18 | 0-3 | CLE, MEM, MIA |
After getting snubbed from the All-Star Game, Andre Drummond took out his frustration on the Jazz. He became the fourth player in the past 20 seasons to record 30 points, 20 rebounds and 5 blocks in a game, joining DeMarcus Cousins, Shaquille O'Neal and Kevin Garnett. -- Doug Clawson
---
20. Los Angeles Lakers
2017-18 record: 19-30
| PREV. RANK | LAST WEEK | THIS WEEK |
| --- | --- | --- |
| 23 | 2-1 | @ORL, @BKN, @OKC |
After starting the season 0-8 in games without Lonzo Ball, the Lakers have gone 4-1 in games without their rookie point guard. Before Sunday's loss in Toronto, L.A. had won five straight games against the Eastern Conference by an average of 11.6 points per game, their longest streak since 2012-13, the most recent season the Lakers made the playoffs. -- Vincent Johnson
---
21. Charlotte Hornets
2017-18 record: 20-28
| PREV. RANK | LAST WEEK | THIS WEEK |
| --- | --- | --- |
| 21 | 2-2 | @IND, @ATL, IND, @PHX |
Dwight Howard recorded his 2,000th career block in Saturday's loss to the Heat. Howard became the 19th player in NBA history to join the 2,000-block club (blocks were first recorded in 1973-74). -- Michael Schwartz
---
22. New York Knicks
2017-18 record: 22-28
| PREV. RANK | LAST WEEK | THIS WEEK |
| --- | --- | --- |
| 20 | 1-2 | BKN, @BOS, @MIL, ATL |
Kristaps Porzingis has shot less than 40 percent from inside the paint in January, the worst in the NBA among the 116 players with more than 50 attempts. The Knicks sit four games out of the No. 8 spot in the Eastern Conference and will have to win on the road to keep themselves close to contention. New York plays 10 of its next 16 away from Madison Square Garden and has the fifth-worst road record in the NBA. -- Vincent Johnson
---
23. Chicago Bulls
2017-18 record: 18-32
| PREV. RANK | LAST WEEK | THIS WEEK |
| --- | --- | --- |
| 22 | 0-4 | @POR, @LAC |
The Bulls are 1-4 in their past five games, all without starting point guard Kris Dunn, who is out with a concussion. He has been the catalyst for Chicago's offense this season: When he dishes fewer than five assists or doesn't play at all, the Bulls are 5-17 this season. Zach LaVine has gone through a cold spell in that stretch, shooting only 33 percent from the floor since Dunn went out. -- Vincent Johnson
---
24. Dallas Mavericks
2017-18 record: 16-34
| PREV. RANK | LAST WEEK | THIS WEEK |
| --- | --- | --- |
| 24 | 1-3 | MIA, @PHX, @SAC |
Dirk Nowitzki has currently played 49,914 NBA minutes, and when he plays his 50,001st, he will pass Elvin Hayes to crack the top five of all time in terms of minutes played. The four others to complete this feat are Kareem Abdul-Jabbar (57,446), Karl Malone (54,852), Kevin Garnett (50,418) and Jason Kidd (50,111). -- Micah Adams
---
25. Brooklyn Nets
2017-18 record: 18-32
| PREV. RANK | LAST WEEK | THIS WEEK |
| --- | --- | --- |
| 25 | 0-3 | @NY, PHI, LAL, MIL |
Scoring 20 points used to be easy for Jahlil Okafor as his 23 games with at least 20 points as a rookie ranked second among first-year players in 2015-16 behind only No. 1 pick Karl-Anthony Towns. When Okafor scored 21 points on Saturday at Minnesota, it was his first 20-point game of the season. -- Michael Schwartz
---

26. Atlanta Hawks
2017-18 record: 14-35
| PREV. RANK | LAST WEEK | THIS WEEK |
| --- | --- | --- |
| 28 | 1-3 | MIN, CHA, @BOS, @NY |
It has been a tough season for Atlanta, which currently owns the worst record in the NBA at 14-35. Regardless of the Hawks' result on Monday against the Timberwolves, it will mark their second-worst 50-game start to a season since the franchise moved from St. Louis to Atlanta in 1968-69. -- Matt Williams
---
27. Memphis Grizzlies
2017-18 record: 17-31
| PREV. RANK | LAST WEEK | THIS WEEK |
| --- | --- | --- |
| 26 | 1-2 | PHX, @IND, @DET, @TOR |
Mike Conley will require season-ending surgery in his left heel. The Grizzlies were just 7-5 with Conley in the lineup, but three of those wins came against the Warriors and Rockets (twice). The Grizzlies and Clippers are the only teams with multiple wins against the Rockets this season. -- Jose De Leon
---
28. Sacramento Kings
2017-18 record: 15-34
| PREV. RANK | LAST WEEK | THIS WEEK |
| --- | --- | --- |
| 30 | 2-2 | @NO, GS, DAL |
Vince Carter turned 41 years old on Friday. A 41-year-old player hasn't dunked in a game since Dikembe Mutombo in the 2008-09 season. -- Jose De Leon
---
29. Orlando Magic
2017-18 record: 14-34
| PREV. RANK | LAST WEEK | THIS WEEK |
| --- | --- | --- |
| 29 | 0-2 | @HOU, LAL, WAS |
Amid a lost season for the franchise, Aaron Gordon has developed a better jump shot. It took just 38 games for Gordon to surpass his career high in 3-point makes in season. He's now shooting 34.6 percent from deep after shooting below 30 percent in each of his first three seasons. -- Michael Schwartz
---
30. Phoenix Suns
2017-18 record: 17-33
| PREV. RANK | LAST WEEK | THIS WEEK |
| --- | --- | --- |
| 27 | 0-4 | @MEM, DAL, UTAH, CHA |
The Suns face the Grizzlies on Monday, and if that game is anything like their first two meetings this season you might want to tune in for the final minutes. Troy Daniels hit a go-ahead 3-pointer with 18 seconds left to win their first meeting while Tyson Chandler made a buzzer-beating alley-oop dunk to win the second meeting. -- Michael Schwartz