Johnny Manziel to participate in developmental Spring League
Updated:
February 14, 2018, 1:02 PM ET
ESPN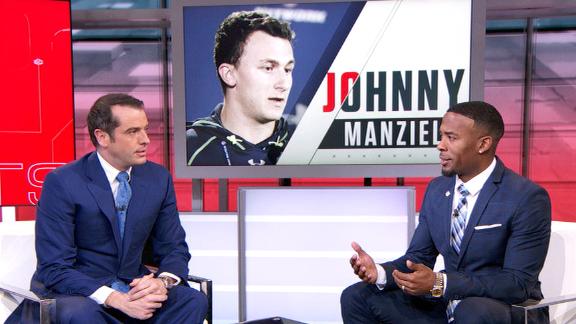 Hawkins rooting for Manziel's recovery
Andrew Hawkins weighs in on former teammate Johnny Manziel, saying his potential return would be "one of the biggest comeback stories in the history of sports."
Hawkins rooting for Manziel's recovery
Former Heisman Trophy winner Johnny Manziel will participate in the developmental Spring League this year as part of his attempt to return to the NFL.
More from ESPN.com
Heisman Trophy winner and NFL bust Johnny Manziel says he's working toward making a comeback. Story
---
Johnny Manziel said on Barstool Sports' Pardon My Take podcast that he and Baker Mayfield are "completely different people" as he responded to the comparisons people are making between the two Heisman Trophy winners. Story
The Spring League announced Wednesday that Manziel has signed a deal to play in the Elite D-League, which runs in Austin, Texas, from March 28 through April 15.
"We believe our platform is the ideal forum for Mr. Manziel to enact his NFL comeback," league CEO Brian Woods said in a statement.
Manziel, who told ABC News on Monday that he has been diagnosed with bipolar disorder, acknowledged in a statement that he has "made my share of mistakes" but said he is thankful for the opportunity to play in the Spring League.
"Football has been a huge part of my life for as long as I can remember. Sometimes you take for granted how much you value something until it's gone. My goal is to make it back to the NFL and I realize I have to earn that privilege," Manziel said. "The Spring League has provided me with a great opportunity to play ball again, and ultimately, that is all I want to do. I miss the competition."
Scott Iskowitz/Getty ImagesJohnny Manziel last played in the NFL in 2015 with the Cleveland Browns. He told ABC News on Monday that he's been working out and trying to convince an NFL team to give him a second chance.
The Spring League consists of four teams competing in two doubleheaders, which will be played in April. According the league's website, 10 NFL teams attended games in 2017 and 22 NFL teams requested game film from last year.
Manziel last played in the NFL in 2015 with the Cleveland Browns, who selected him 22nd overall in the 2014 draft. As a Texas A&M freshman, Manziel won the Heisman Trophy in 2012.
EDITORS' PICKS
Jameis Winston's pro day workout wasn't exceptional, but he confirmed he's worthy of being the top pick.
McShay

As ESPN.com celebrates two decades of coverage, we rank the top players and teams of the past 20 years.
Story »

Mailbag: John Clayton explains why expanded playoffs are on hold and discusses overtime rules and extra points.
Story »